DIVA Sinus Lift Technology
Most sinus lift procedures today are extremely invasive, increasing the risk of complications, infection and patient discomfort. DIVA, a new sinus lift technology, delivers an innovative solution for the sinus elevation procedure.
Much simpler and easy to learn, the DIVA technology is based on a "smart" implant design that significantly reduces the risk of membrane damage and also enables dental surgeons to perform the entire procedure through the implant itself. After the procedure is completed, the "smart" implant is completely sealed off against oral flora. 
DIVA Sinus Lift Technology is great news for patients because it is a far less invasive than other implant procedures, and as such it greatly reduces the risks of patient post-op complications, and shortens the post-op recovery period.
DIVA Sinus Lift Technology Unique Innovations   
Uses the implant itself to elevate the sinus membrane and reduces the risk of perforation
Enables the detection of sinus membrane movement through the implant
"Smart" configuration allows injection of bone substitute directly through the implant
Unique inner valve screw enables absolute sealing of the implant against oral flora
Significantly stronger than other, regular dental implants.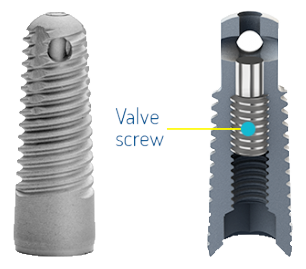 Simple and easy-to-use
Technology, enabling not only specialized dental surgeons to perform sinus elevation implants, but also general practitioners
Less invasive
The technology significantly lowers the risk of membrane rupture
Minimal residual bone
Its special design make sinus lift procedures possible even in cases of minimal residual bone (3 mm)
Selective elevation
Enables selective elevation of the sinus
Reduce complication
Significantly reduces infection and post-op side effects as well as the recovery period, may be suitable for patients with complex clinical backgrounds
Decreased chair time
The DIVA procedure, shorter and more efficient compared to other sinus lift operations, results in significantly decreased chair time
Similar failure behavior
DIVA failure behavior is similar to that of other implants
Main characteristics of DIVA  sinus lift technology
compared to other sinus elevation techniques
| | | | | | |
| --- | --- | --- | --- | --- | --- |
| Criterion/ Technology | Minimally invasive | Fewer Post-op side effects | Membrane safety | Shorter osseeointegration period | Minimal Residual bone |
| Open sinus elevation | | | | | |
| Closed sinus elevation | | | | | |
| DIVA SinusLift Technology | | | | | |